PHOTO: RateCity director of research Sally Tindall. FILE
Across Australia, first home buyers like Yolanda Zarins and Luke Andree are wondering if house prices will ever drop.
Since having their first child Jannis 16 months ago, their inner-city rental has felt too small.
"It's been pretty stressful, really. We started looking for a place to move into with a bit more space and we found we couldn't really read the market," Mr Andree says.
Nationally, property values have grown 22 per cent in a year, although the pace of growth has slowed in recent months.
Ms Zarins and Mr Andree live in Hobart – 2021's hottest capital city property market. Prices there have gone up a staggering 27.7 per cent in the past 12 months.
In Sydney, values have risen 25.8 per cent, followed by Brisbane (+25.1 per cent), Canberra (+24.5 per cent), Adelaide (+21.4 per cent), Darwin (+16.7 per cent), Melbourne (+16.3 per cent) and Perth (+14.5 per cent).
"What we've seen is the highest 12-month growth rates since 1989," says CoreLogic's Eliza Owen.
"But in terms of the full upswing, it's been going on for about 13 months."
In 1989, Ms Zarins turned one. More than three decades later, record annual price growth has priced her young family out of the property market.
"I think the emotional toll is really what made us decide to stop looking for now," she says.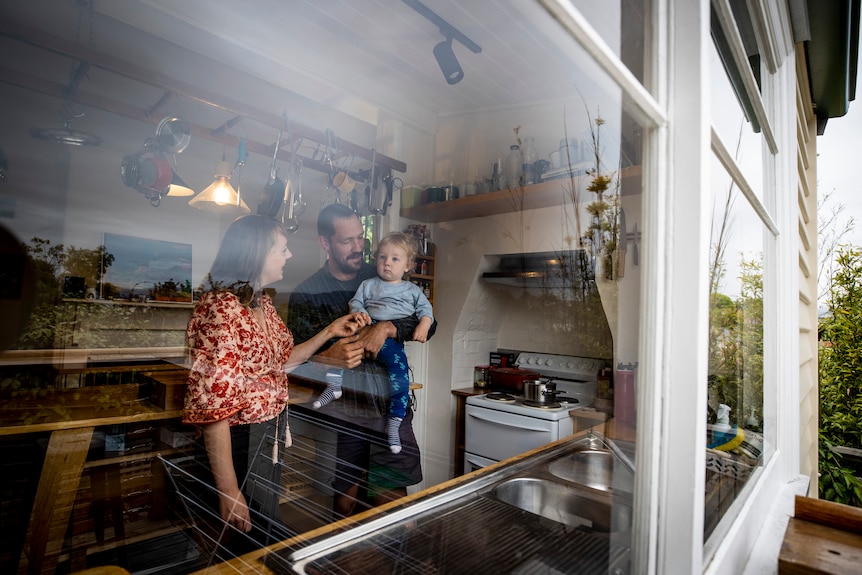 What will property prices look like next year?
It's not great news for first home buyers.
Prices are expected to rise again in 2022 before falling in 2023 (although not enough to wipe out the gains of the current boom).
NAB has forecast a 4.9 per cent lift in property values in 2022 and a 4 per cent fall in 2023.
ANZ's outlook is a 6 per cent price hike next year and 4 per cent drop in 2023.
The Commonwealth Bank expects house prices to rise 7 per cent next year, and is forecasting the biggest price drop in 2023 out of the major banks, of 10 per cent.
Westpac expects an 8 per cent rise in 2022 and 5 per cent correction in 2023.
Banks hiking rates
Record low mortgage rates below 2 per cent have fuelled the property frenzy.
House prices probably won't go down until interest rates go up (which are linked to money markets and the cash rate).
The Reserve Bank of Australia (RBA) says it won't lift the cash rate until inflation reaches 2 to 3 per cent target range.
But some analysts are betting the cash rate will rise in 2023 rather than 2024.
Banks have already started hiking fixed rate while cutting variable rates to attract new customers.
That's why RateCity's Sally Tindall says borrowers need to be prepared for rate rises in 2022.
READ MORE VIA ABC