PHOTO: The Block's fans vs faves series
The reno show's latest houses have officially hit the market. Take a peek inside the Hampton pads, and find out what they're expected to sell for.
The Block's fans vs faves series has delivered drama, scandal, laughs – and some dreamy Bayside homes that have now officially hit the market.
This season's Hampton houses are online for prospective buyers to peruse – but only in part, as the full house reveals have not yet aired yet on TV.
Four out of five of the listings carry the same price guide of $2.6m-$2.8m. The fifth – the only two-storey property, being transformed by fans Kirsty and Jesse – has been listed for $3.2m-$3.4m.
The properties are less expensive than last year's price points, which began at $3.2m-$3.4m, making them more family friendly.
McGrath St Kilda's Michael Townsend, who is representing returning faves Mitch and Mark, said the homes would appeal to local buyers looking to upgrade to a bigger, brand new family house.
"This (price point) is the new norm for Hampton, Bayside real estate," he said.
Ray White Cheltenham director Kevin Chokshi, who is making his first appearance on The Block representing twin brothers Josh and Luke, teased the best reveals were yet to come.
"The houses look great and the boys are putting on a hell of a show themselves," he said.
"Wait until you see the ensuite, it's next level."
Take a peek inside the listings and see the rooms that have already been revealed.
JOSH AND LUKE
10 Bronte Court, Hampton
Price guide: $2.6m-$2.8m
Listing agency: Ray White Cheltenham (Kevin Chokshi, Elise Russell)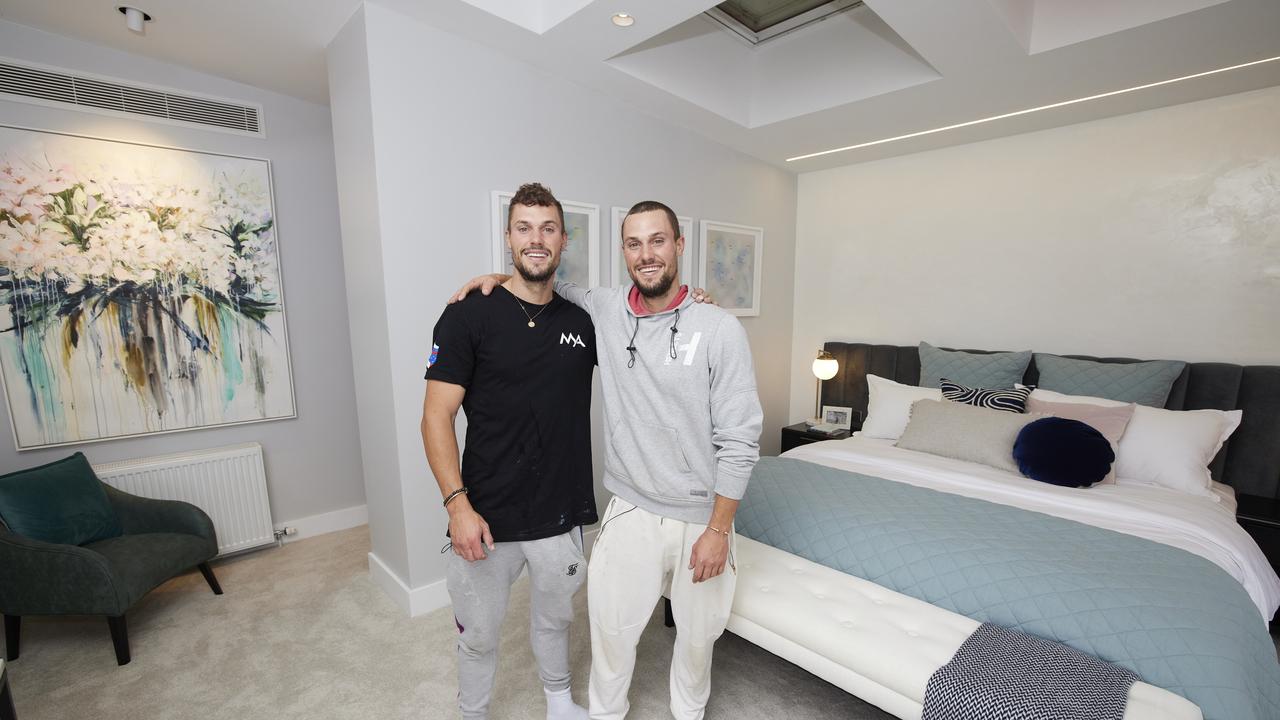 Josh and Luke in their winning room. Picture: supplied, Channel 9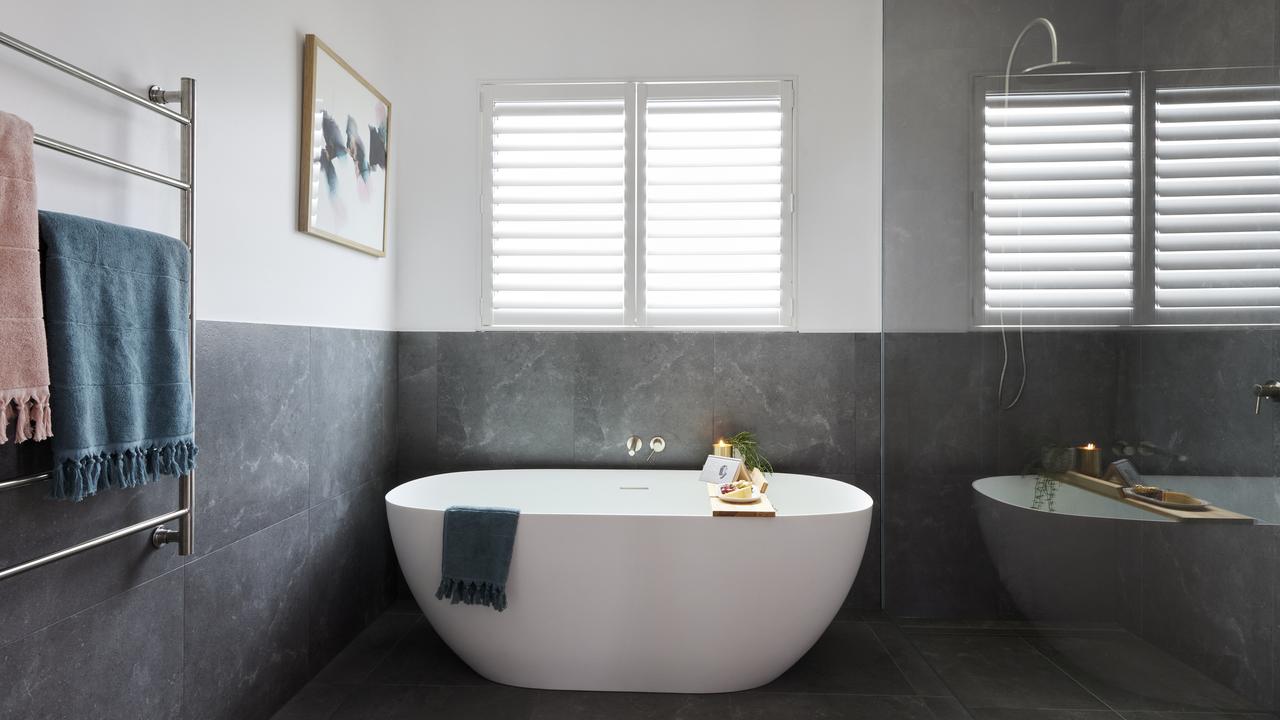 Luke and Josh's bathroom didn't impress the judges. Picture: Supplied Channel 9
Twin brothers and former Love Island heart-throbs Luke and Josh have come out swinging with their "soul-awakening home sweet home", as described in Ray White's listing.
The dynamic duo took a major risk when converting the space allocated for a garage into a master wing, which wowed the judges and won the room reveal challenge.
With views of the garden and pool, the suite gets plenty of sunlight and boasts a large dressing room with glass-display Kinsman robes and a concealed double door opens on to the yet-to-be-revealed indoor-outdoor ensuite.
The boys' main bathroom – a Jack-and-Jill style multi-access room – features beautiful timbers, stone, brass and marble-inspired Venetian plastering, the listing states.
KIRSTY AND JESSE
1 Bronte Court, Hampton
Price guide: $3.2m-$3.4m
Listing agency: Buxton Brighton (Michelle Gaget, Halli Moore)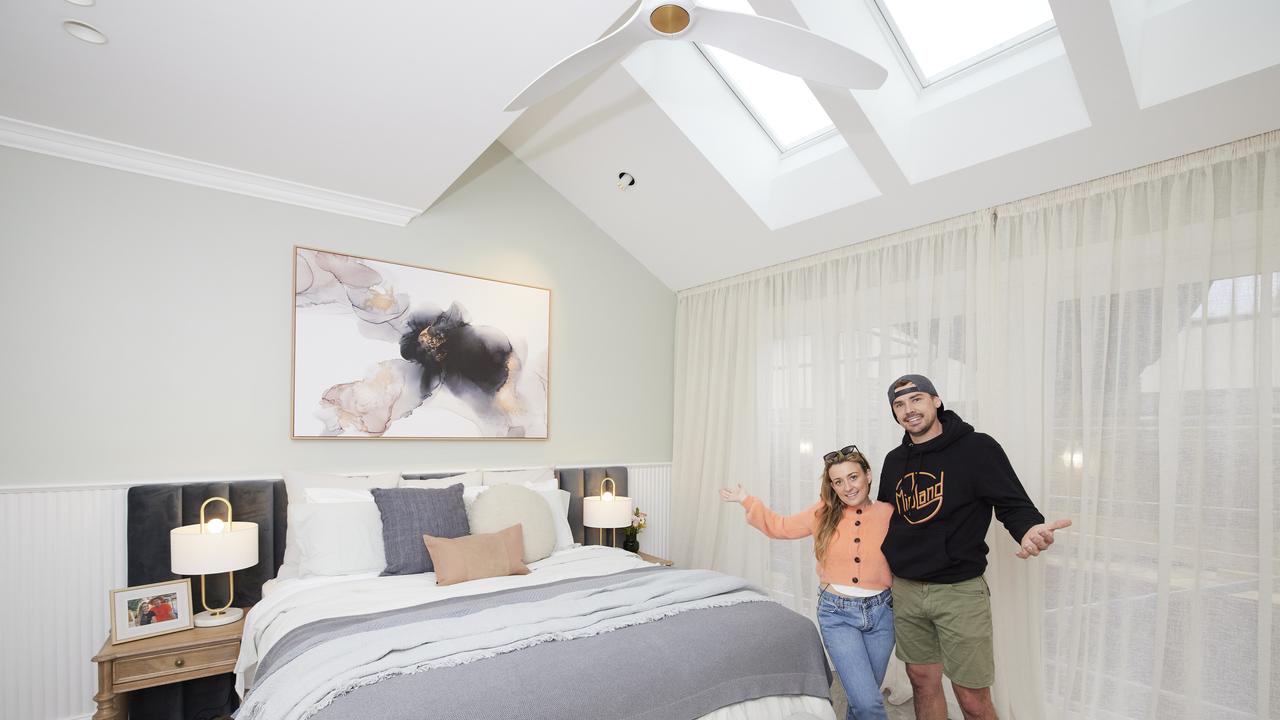 Kirsty and Jesse's finished room was green instead of their signature blue. Picture: Supplied, Channel 9
READ MORE VIA NEWS.COM.AU
OST POPULAR