PHOTO: Bill and Carolyn Hiley in their Haberfield garden, which backs onto the disused army land. CREDIT: KATE GERAGHTY
Nobody in the neighbourhood remembers the exact date in 2003 when 1.9 hectares of disused army land was put to market in the heritage suburb of Haberfield, but they all remember that it was Mother's Day. It was the mother of all Mother's Days.
Sydney's property market had started to twitch. The Block aired on television for the first time that year, auctions were turning in dizzying results and real estate had become a city obsession. The release of 21 undeveloped blocks within six kilometres of Sydney's CBD, in a suburb known for its Federation homes, tidy gardens and friendly community, was cause for excitement. The most fashionable auctioneer of the day was recruited to run the sale and hundreds of bidders and stickybeaks turned out.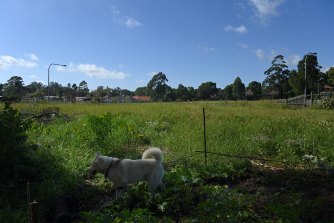 By the day's end, the Australian Defence Department had raked in $18 million.
Eighteen years later, the land remains dormant, overgrown with grass and soggy after rain, and all but four of the buyers have rescinded their offers.
Carolyn Hiley, whose house backed onto the site, popped over the back fence with her husband and extended family, who were in town for her mother's 80th birthday. As each lot disappeared under the hammer, her brother from Wagga Wagga noted the prices with incredulity. Prices ranged from $742,000 for a 530sqm lot to $1.151 million for a 1046sqm lot, which was bought by the then recently retired NSW police minister Paul Whelan.
"My brother said, 'Jeez, I think I'll be subdividing my paddocks and selling off the blocks,' " Mrs Hiley says.
READ MORE VIA SMH