PHOTO: Sydney and Melbourne are Australia's two major real estate markets. FILE
Sydney and Melbourne have turned into buyers' markets as vendors take longer to sell their homes and with bigger discounts, new data shows.
Nationally, the median days on market for properties selling via private treaty rose to 28 in the three months to May 2022, according to CoreLogic figures. That's up from a recent low of 20 days in the three months to November 2021.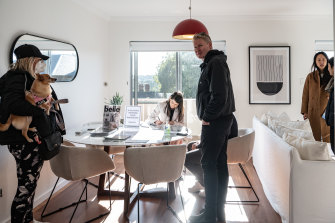 At the same time, the median vendor discount at the national level reached 3.3 per cent in the three months to May 2022. That's also increased from the recent low of 2.9 per cent recorded in the three months to November last year.
CoreLogic's head of research Tim Lawless said there were more homes to choose from among a smaller buyer pool, turning a sellers' market into a buyers' market in the major capitals, with other markets holding on for now.
"It's probably moving towards a buyer's market, if it isn't there already. When you start to drill down … Sydney and Melbourne absolutely they are in a buyers' market," Lawless said.
"Buyers are in the driver's seat. Stock levels are above average levels.
"But go to somewhere like Perth or Adelaide, and you'll find stock levels are nearly 40 per cent below the five-year average and vendors are able to hold firm on their pricing expectations and buyers are sensing urgency."
Laing+Simmons chief executive Leanne Pilkington said while the NSW regions are still performing strongly, vendors in the capitals are struggling to find buyers.
"Certainly, the numbers coming through open homes in Sydney have decreased. Properties are staying on the market for longer and prices are just not as strong as they were prior to Christmas," Pilkington said.
"There is more to choose from, there's less urgency, but there are still deals being done. But the market has shifted from a seller's market and buyer's market."
She said while some vendors are realistic with their price expectations, others have yet to appreciate the shift in the property market since late last year.
"The change in interest rates means people can't borrow as much money as they could and that impacts what they can spend. That then is reflected in the prices they're offering for property.
"They say 'but our neighbour's property sold for more than that a few months ago'. It can be very hard for some people to understand how fast the market does move."
READ MORE VIA SMH