PHOTO: Annabel Walker – Instragram
On September 9 Bowral socialite Annabel Walker faces likely jail time when she is due for sentencing on a string of fraud convictions that has left a trail of financial devastation from the Southern Highlands to the exclusive Rae's resort in Byron Bay.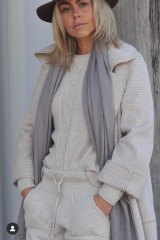 However, since PS first reported on her antics, which had left her victims $30,000 out of pocket, other accounts of similar episodes – some going back over a decade – have been brought to this column's attention. PS can reveal at least one former fiance, several lovers and their respective families, a landlord, old school friends and shopkeepers have also been fleeced by Walker over the years, collectively to the tune of hundreds of thousands of dollars.
Several, deeply embarrassed by the ordeals, have spoken of their experiences and given detailed accounts of how they were hoodwinked. PS has chosen not to name them.
What has emerged is a portrait of a pretty 32-year-old masterful con artist, a real life Talented Miss Ripley, adept at creating false identities and concocting increasingly melodramatic excuses in order to evade paying up.
"I loved her like a daughter," one of Walker's victims, a high-profile millionaire Sydney businessman, told PS this week. His family had taken Walker in when his son was in a relationship with her four years ago.
However, after discovering she had stolen his business credit card details and racked up huge bills over many months while she was dating his son, that love soon turned into utter dismay.
READ MORE SMH
MOST POPULAR