PHOTO: A lot has changed at Jared Kushner's family company during his time in the White House. CREDIT: AP
Guy Fieri's Times Square restaurant, where Jared Kushner and Ivanka Trump partied in late 2016 before heading to Washington, is gone. The office tower at 666 Fifth Ave, once the headquarters of the Kushner family's real estate empire, has been sold. So too has a stake in a project in the trendy Dumbo neighbourhood of Brooklyn.
New York looks a lot different now than it did before Jared Kushner left town to take a job as a senior adviser to his father-in-law, President Donald Trump. Kushner Cos., the company where he was chief executive officer, has pulled back from the city, separating itself from almost a decade's worth of investments in a few years. Instead, it has relocated its ambitions to apartment complexes in New Jersey and Florida.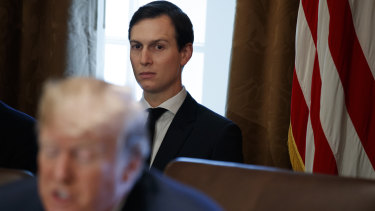 It isn't clear if Kushner will return to an active role in the company after four years in the White House, or even if he'll go back to New York. The changes made in his absence by his father Charles Kushner and company president Laurent Morali come after a decade-long push into the city, most of it when Jared Kushner was CEO. Although there were successes, some of the biggest deals foundered. High purchase prices, excessive borrowing and unrealistic expectations were followed by declining valuations and debt re-negotiations.
Kushner Cos. didn't respond to questions about whether Jared Kushner would rejoin the company or about the change in strategy. But Christopher Smith, its top lawyer, pointed in an email to a number of profitable transactions, including investments in Lower Manhattan and the Gowanus neighbourhood of Brooklyn. He said other buildings had gained in value. During the Trump years Kushner Cos. chased investors from China, Qatar and Israel as Jared Kushner was helping shape foreign policy. He stepped down from his role at the company and transferred some of his assets to family members, but the structure of the divestments wasn't clear, exacerbating ethics concerns.
At the same time, the company purchased apartment buildings in the suburbs of New Jersey, Maryland and Virginia, markets that are now booming as people flee cities during the COVID-19 pandemic. It is also looking to break into new territory: multifamily projects in South Florida.
Some of the transactions that brought the company to this point have been painful. The 2018 sale of 666 Fifth Ave. was necessary to pay off a loan incurred in 2007, at the peak of the market, when Kushner Cos. purchased the office tower for a then-record $US1.8 billion ($2.4 billion). Jared Kushner didn't become CEO until the following year, but he was involved in the negotiations and touted the purchase in a news release as having "great upside potential."
READ MORE VIA SMH
MOST POPULAR