PHOTO: First homebuyers. FILE
After two-and-a-half years of frustration one couple finally bought their first home, but they were shocked by the hidden fees.
For Toni and James, purchasing property was an essential financial investment.
But in reality the process was far more difficult, and a whole lot more expensive than expected, discovering a number of hidden fees along the way that nobody had warned them about.
"It took us about two-and-a-half years to purchase a property," Toni told news.com.au.
"Our initial plan was to save for 12 months, but due to Covid and the housing market spiking as we were about to purchase, demand went up and supply went down."
Despite trying to keep a positive attitude and using the extra time to increase their deposit for their future home in Adelaide's western suburbs, Toni said the wait was "almost counter-productive".
"The house prices continued to rise no matter how much more we saved. It always felt like we were in the same position," she said.
'No one talks about it': $15,000 fee shock
Right when the couple was about to give up, they finally got lucky. They purchased their first home for just under $400,000, with a $70,000 deposit and another $10,000 they had saved for moving costs such as furniture and removalists.
Although they'd been saving carefully for the day they finally secured a property, they were shocked by the amount they needed to spend on fees.
"When people say you need a 20 per cent deposit, that's not inclusive of fees such as stamp duty — they can be upwards of $15,000," said Toni.
She couldn't understand why no one talks about how much needs to be paid on top of a deposit.
While the couple were able to save the money on their own by cutting down on social activities, they were also lucky enough to be able to live with James' parents rent free after James made an industry change that had him working as an apprentice once again.
"We didn't pay rent for that period, but did have bills … and additional travel costs for me," explained Toni.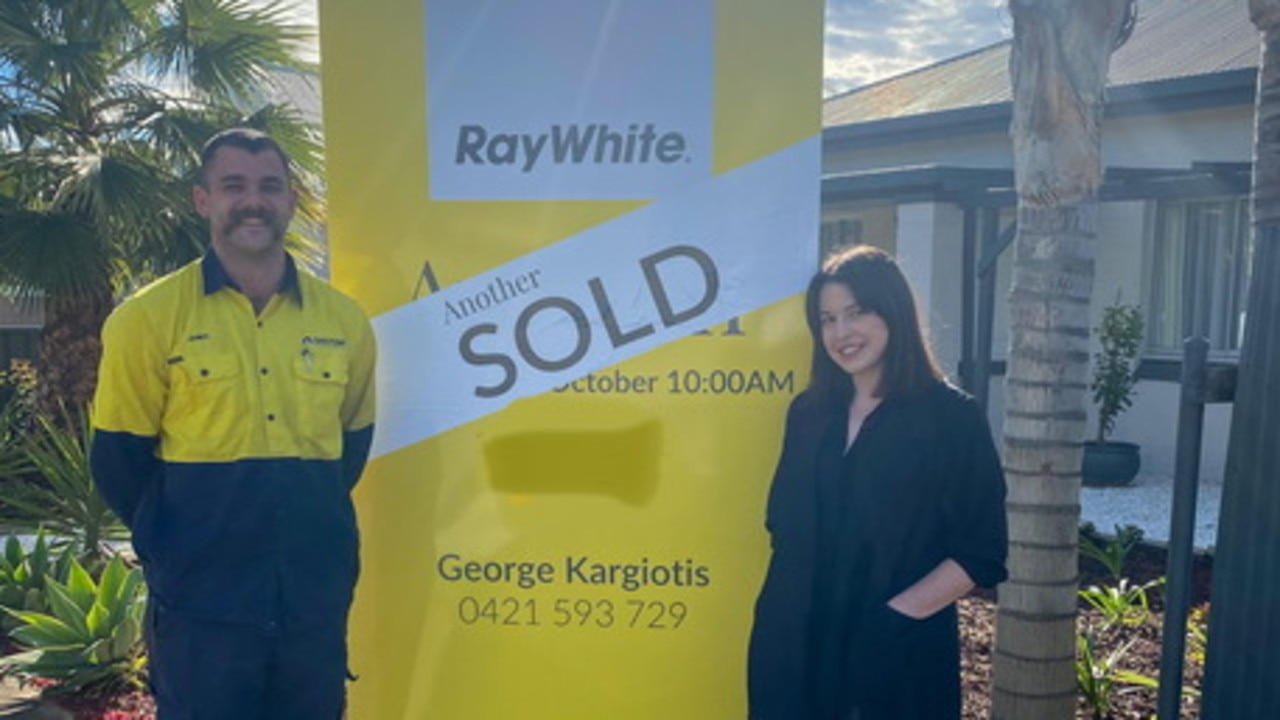 Toni and James in front of their first home. Picture: supplied
Thanks to about $2000 in lenders' mortgage insurance fees they hadn't budgeted for, they were just under their goal of a 20 per cent deposit, plus fees deposit. Still, they felt lucky to find a seller who took pity on them.
"We were lucky that we had purchased it off a flipper that carved a section of the block and made his money selling the land — they wanted the house to go to a young couple," says Toni.
Ditching the brokers
The couple started their journey looking for help from banks and brokers, Toni says they ultimately decided it was worth the extra effort to go it alone.
"I spoke to three banks and two brokers who I didn't find particularly helpful or weren't the right fit," she explained. "I decided to take the lead."
"I did my own research to find the best bank and home loan for us," she continued. "I looked at different government grants, compared South Australia's stamp duty fees with other states — I even wrote a letter to the state Treasurer pushing for changes on stamp duty costs for SA first-home buyers to match other states (unsuccessfully)."
Eventually, her research paid off when she found a bank that not only helped guide the couple, it had the perfect loan and low interest rate specifically for first-home buyers to fit their needs.
"As stressful as it was, I learnt so much and have since advised many of our friends who were looking to enter the market," she said.
The whole family enjoying their own home. Picture: supplied
READ MORE VIA NEWS.COM.AU
MOST POPULAR