PHOTO: Gina and Lang Rinehart
The historic Killara estate Wharncliffe, where the late mining magnate Lang Hancock momentously married his former maid Rose Lacson, is on offer with a $20 million guide.
The Georgian revival residence on 7500 square metres with a swimming pool and tennis court is one of the Upper North Shore's most significant estates, which goes some way to explain its record price aspirations far and above the region's $15 million record – set last year by the Bremon estate in Warrawee – and the $16.3 million exchange on a Killara residence that is expected to settle in the new year.
Wharncliffe was built in 1939 at a cost of £600 for metal merchant William George Wright to a design by architect Clifford Finch featuring its grand sandstone facade with a columned portico.
But beyond the marble foyer and circular staircase is an ornate ballroom where history was made when it was owned by Hancock's lawyer Carnegie Fieldhouse, and who converted what was then an indoor pool into a temporary ballroom in preparation for the Hancock-Lacson nuptials.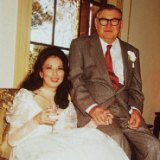 Hancock's daughter Gina Rinehart never made it to the happy event in 1985, but among Hancock's friends and business associates who were in attendance was Perth land developer-turned real estate agent William Porteous, who watched Fieldhouse walk his future wife down the makeshift aisle.
In 1986 Fieldhouse sold the property for $2.6 million to developer Paul Petersen, who filled in the pool and turned the ballroom into a more permanent structure.
Hong Lu, a property developer from China and a director of Chinese-backed property developer Qiantang Investment Group, and his wife Jia Yan were drawn to Wharncliffe because it was of a similar character and scale to their home in Hangzhou.
Having bought it in 2010 for $7.8 million, the couple made headlines five years later when their DA to demolish the ballroom was knocked back, prompting council to heritage-list the property, all of which coincided with the telemovie House of Hancock that aired on Nine, starring Mandy McElhinney and Sam Neill.
READ MORE VIA SMH
MOST POPULAR