PHOTO: Simone Haag. Facebook
None of Simone and Rhys Haag's family or friends could see the appeal of the mid-century house the newlyweds purchased for $425,000 in Ringwood 11 years ago.
But the creative couple had a vision of the masterpiece it could become and set out to achieve their dream, layer by textural layer, over the subsequent years.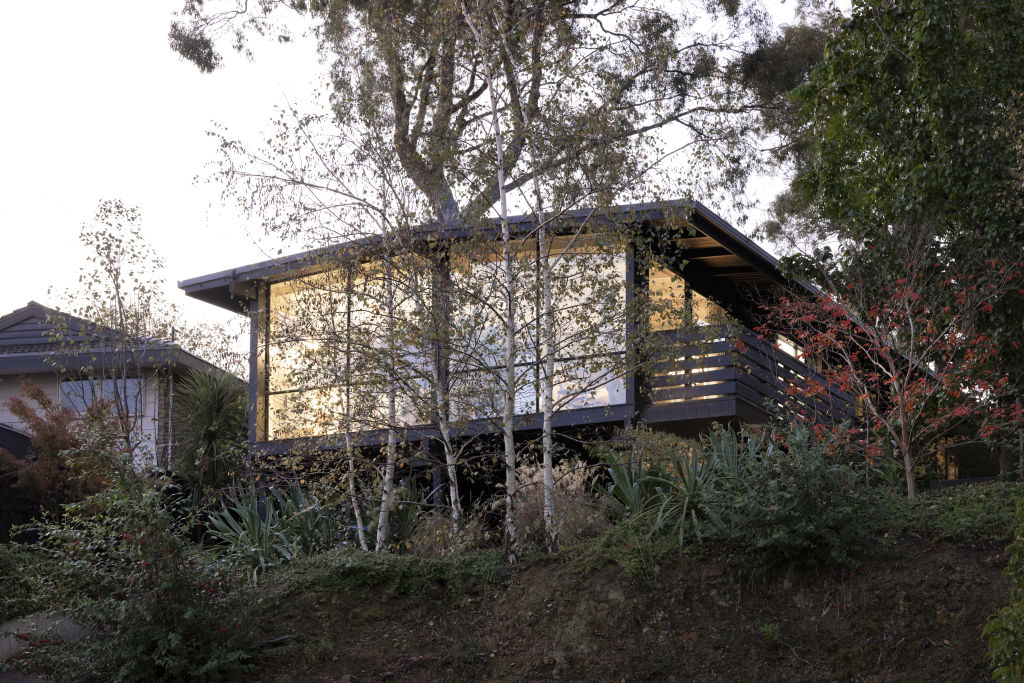 "We were drawn to the aspect, elevation, great floor plan, mid-century modern characteristics, and the fact it was untouched, which was an important prerequisite as we didn't want to buy someone else's renovation," Simone says.
"The renovations were in two stages. We initially renovated prior to moving in. The house had only had one owner, and many renters, and it was in desperate need.
"We didn't change the floor plan, (but) we did refresh just about every surface except the fireplace. We added larch floors, painted about five coats of white paint, fresh carpet and robes, renovated the kitchen and the one bathroom it had at the time."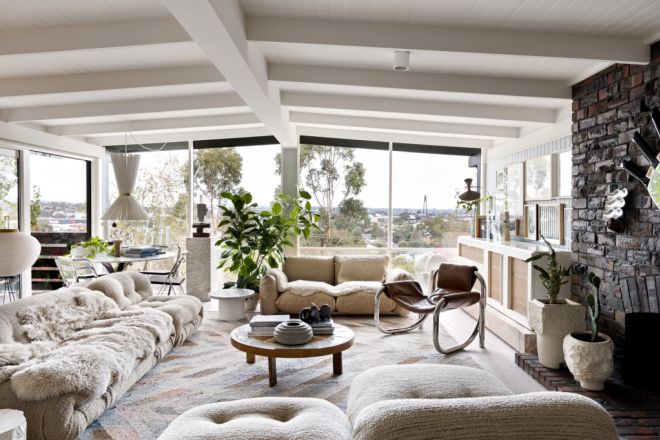 13 Poynton Avenue, Ringwood VIC 3134
When two became five in the growing family, the Haags contemplated selling and moving on, but their connection to the home was too compelling and, instead, they opted to extend.
Melbourne architecture firm Kennedy Nolan helped them conceptualise how to achieve maximum space without looking like they had intervened "too much".
"We added a deck off the dining room to create that indoor-outdoor living experience. We switched bedrooms with our kids and added a robe and en suite to the north, capped by a deck that surrounds a huge gum tree," Simone says.
"We pushed the main living room to encase what was an unused balcony. This gave us the extra width in the room to create a custom rattan unit where the TV pops up.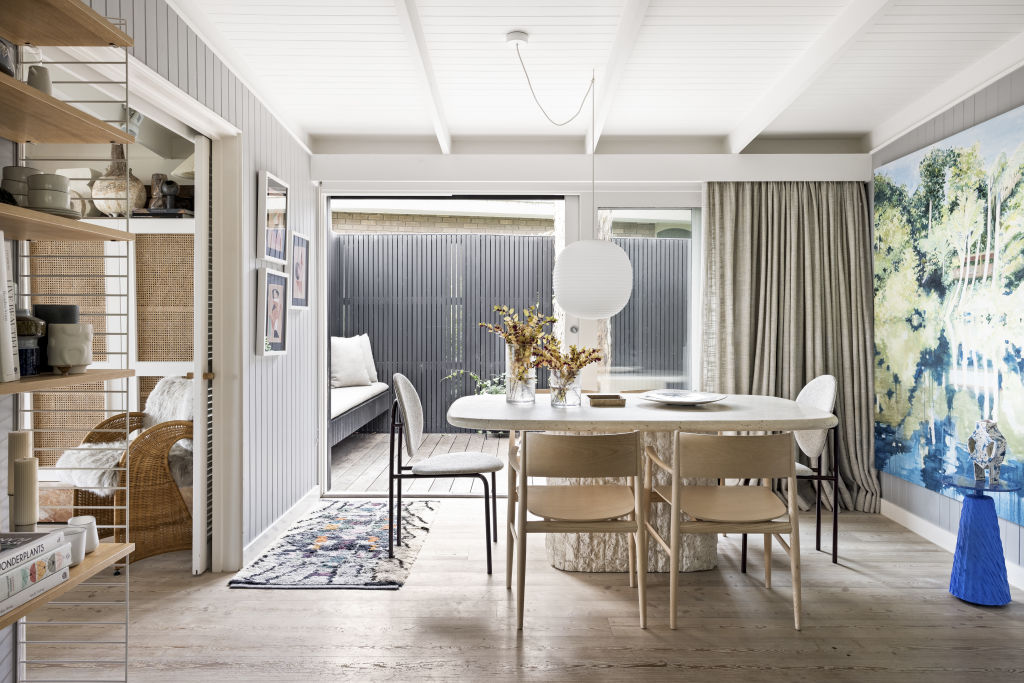 "It is inviting, layered and there is a narrative behind every decision and each piece in the house."
Despite loving the phenomenally large open fireplace, the main bedroom suite overlooking a majestic 100-year-old gum tree and the lamp-lit living room with views of the Dandenongs and the night lights, it's time for the Haags to find a new project.
"As a husband-and-wife builder-designer partnership we have well and truly considered, designed, renovated and layered every square inch of our home," Simone says.
"We have enjoyed every minute of being in this house, but almost 11 years on, we are ready for a new project, which will bring with it some more land for Ralph to romp around on and a separate study space for me to combine studio life with designing from a home-based studio as well."
Purchasers of the unique property will have the opportunity to negotiate to buy several of the special features and pieces in the home.
"The Danish String [storage] system in the kitchen is millimetre perfect – and that really belongs just where it is – so that, the master bedhead and other shelves, furniture items, rugs and artwork are all available by negotiation," Simone says.
READ MORE VIA DOMAIN