PHOTO: Eastern suburbs realtor Maclay Longhurst was pictured at the Cronulla riots in 2005.
It was a day that shamed the nation and 16 years it's still a raw issue in Sydney's Sutherland Shire – the 2005 Cronulla riots, when self-described "patriotic" Australians clashed with police, ambulance workers and people perceived to be immigrants.
Last week, eastern suburbs realtor Maclay Longhurst, 35, was recognised as one of Australia's top-earning real estate agents, listed number five of 20 agents across the country.
However, prior to his rise in the property world, Maclay was photographed amid the crowds at the Cronulla riots. The photos captured a then 19-year-old Longhurst behind a group of bottle-yielding men clashing with police.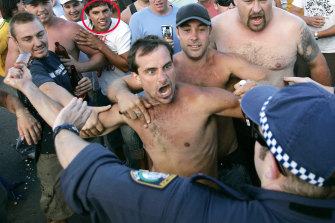 Emerald City is told the Porsche-driving, superyacht-loving agent has long feared his photo would one day surface and if identified could jeopardise his profile as a director of Australia's leading lifestyle property group Bresic Whitney.
Longhurst did not wish to comment when contacted on Friday and he was quick to question who had shared the photos with Emerald City. Director Ivan Bresic acknowledged Emerald City's questions and said he expected the firm would respond, but this did not occur by deadline.
READ MORE VIA SMH