PHOTO: "It really is out of this world": The Harry Seidler-designed Berman House in the Southern Highlands. CREDIT: WOLTER PEETERS
What would Harry do? Since 1961, not a tap nor a tile in the home that internationally celebrated modern architect Harry Seidler designed for the Weinreich family was changed without his advice.
With its circular dining room and round table set with lime-green table mats and orange napkins under a massive skylight, the Weinreichs' glass-fronted home in Sydney's east is frozen in the swinging '60s.
"I wanted light because we were in the darkness during the Holocaust," says Aneta Weinreich, now in her 90s. Nearly all of Aneta and Joseph Weinreich's families were killed by the Nazis in Poland.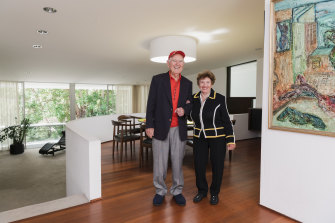 Born in Vienna in 1923, Harry Seidler was an Austrian Jewish refugee who was interned during the war.
When the young architect arrived in Sydney in 1948, he found "deadly, dull suburbia" and an oppressive "sea of red brick and tile".
Seidler, who died in 2006, brought modernism to Australia in the late 1940s and 1950s when the country was considered "the arse end of the world", says award-winning architect Shaun Carter. "Seidler had big ideas and big talent – as big as his personality – and he almost grabbed Australia by the scruff of the neck and shook it."
His award-winning designs changed the skyline, lifting it higher and higher, and transformed how we lived and worked in Australia and overseas. They included Sydney's Australia Square tower, a circular skyscraper that contrasted against the rectangular blocks that surrounded it; McMahons Point's Blues Point Tower, which Seidler said was one of his best yet still attracts controversy; the Australian Embassy in Paris; and, in Darlinghurst, the Horizon apartments and their curved balconies.
READ MORE VIA SMH
MOST POPULAR