PHOTO: Investors are worried China's Evergrande Group might collapse with roughly $400 billion of debt. (ABC News: Paddy Fok)
The Reserve Bank of Australia has made some startling observations about the possible consequences of the collapse of China's second largest property developer, Evergrande.
The central bank made no reference to China or Evergrande in its October Monetary Policy statement, but it's more than made up for that in its latest Financial Stability Review.
The RBA warns: "Vulnerabilities in China's financial system remain elevated and authorities face a difficult balancing act."
The slow-motion train wreck that is Evergrande remains a crucial aspect of those "vulnerabilities".
"If they act too quickly in addressing these vulnerabilities, confidence in the implicit guarantees that underpin much of China's financial system could collapse, which would lead to financial distress," the RBA says.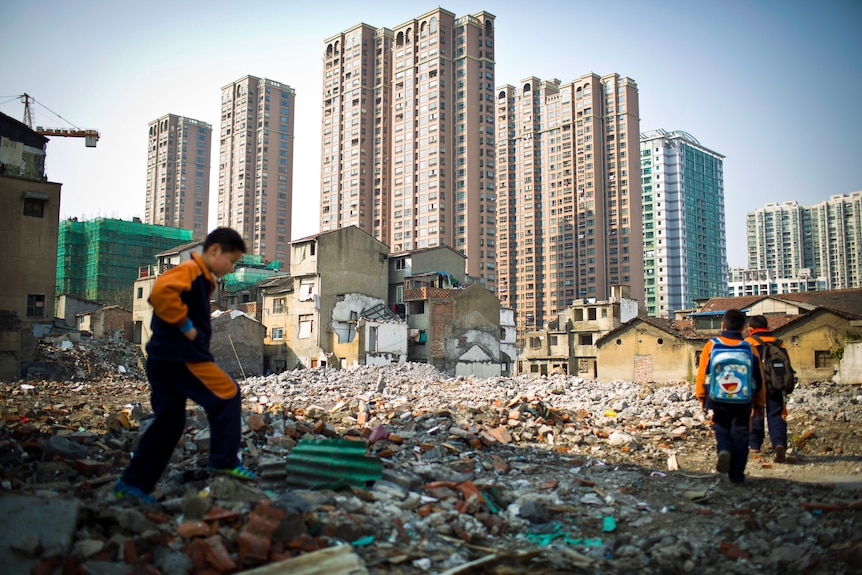 "In contrast, if they act too slowly, the probability of more severe financial stress in the future will increase.
"Continued bailouts also risk further entrenching perceptions of implicit guarantees."
In short, the RBA believes China's authorities have found themselves caught between a rock and a hard place on managing the wind-up of the world's second most indebted company, whose "collapse could trigger wider stress in China's financial and real estate sectors."
Financial markets still fear for the future of China's second largest property developer, while another global financial crisis has been considered a distinct possibility.
More immediately though, serious questions are being asked about the health of the Chinese property sector and what that means for countries — like Australia — that are heavily dependent on robust Chinese economic growth.
Another crucial question, then, is: How can Australia achieve strong, sustainable economic growth without significant help from China?
READ MORE VIA ABC
MOST POPULAR