PHOTO: The Reserve Bank of Australia
The Reserve Bank has made the biggest one-month increase in official interest rates in more than two decades in a bid to address higher than expected inflation.
RBA governor Philip Lowe announced the new cash rate of 0.85 per cent, up by half a percentage point, following the board's June meeting on Tuesday afternoon, saying inflation was tracking higher than expected.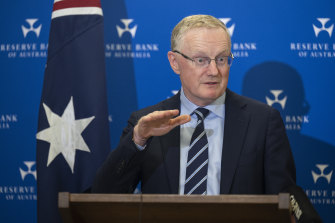 "While inflation is lower than in most other advanced economies, it is higher than earlier expected," he said. "The board expects to take further steps in the process of normalising monetary conditions in Australia over the months ahead."
It's the biggest one-month increase in the official cash rate since February 2000 and only the second rise since November 2010, after the bank last month lifted the cash rate from a record-low 0.1 per cent to 0.35 per cent in the lead-up to the federal election.
That was the first time the bank had intervened during an election campaign since 2007, but the RBA had flagged it was the start of a series of rises as it returns rates to a "more normal" level.
Economists and banks had expected a step-up of either 0.25 or 0.4 percentage points to address inflation, which grew to 5.1 per cent in the 12 months to March.
Last month, Lowe said cost-of-living pressures would continue to grow in the coming months, and inflation was expected to reach 6 per cent.
But on Tuesday, he said inflation was now expected to increase further, before declining back towards the bank's target 2 to 3 per cent range next year.
Treasurer Jim Chalmers said the RBA's move would be hard news for mortgage holders.
"Difficult news for homeowners already facing skyrocketing costs of living, including spiking energy prices," he tweeted shortly after the announcement on Tuesday afternoon.
"A better future awaits but first we have to navigate together this inflation challenge we inherited, and the rising interest rates that accompany it."
The Australian dollar jumped to be trading at US72.33¢ shortly after the RBA's announcement while the sharemarket dipped deeper into the red, with major bank shares falling.
The RBA's decision came as consumer confidence dropped to its lowest level since the second wave of the coronavirus pandemic began in August 2020.
The ANZ-Roy Morgan measure of consumer confidence fell 4.1 per cent over the past week, with drops in NSW, Victoria, Queensland and Western Australia but an increase in South Australia.
There was a 4.7 per cent decline in whether it was a good time to buy a major household item after a jump of 10.1 per cent in the previous two weeks.
ANZ's head of Australian economics, David Plank, said the fall in confidence was most likely driven by cost-of-living concerns as inflation expectations rose to 5.7 per cent, the highest level since April.
READ MORE VIA SMH