PHOTO: Holdout homes – where the owners say NO to developers.
Among the tide of high-rise development sweeping over Australia's cities there are some truly remarkable homes still standing.
Surrounded by a world that appears to have left them behind, they now stand as monuments to a simpler time.
Some appear to sink into the high-rise towers that have sprung up around them, while other spacious estates stick out like sore thumbs amid freshly build rows of new homes.
In some, the owners who have lived there for decades say they are refusing to leave until they kick the dust. Others are being used for art projects or they have been protected by law to force developers to think creatively.
But there's one thing they all have in common, they all have an incredible sense of history in a world that sometimes feels like it's moving a little too fast.
So without further ado, let's take a look at some of the nation's best "holdout" homes.
Brisbane's "Up" house
Perhaps one of the best-known holdout houses in Australia sits right in the beating heart of Brisbane's CBD.
Norman and Janet Richards refused to give up the three-bedroom home when developers came knocking — even when they got out their fat cheque books.
However, in 2015, after the passing of Mr Richards, and Mrs Richards' move into a retirement home, 42 Mollison St was finally sold.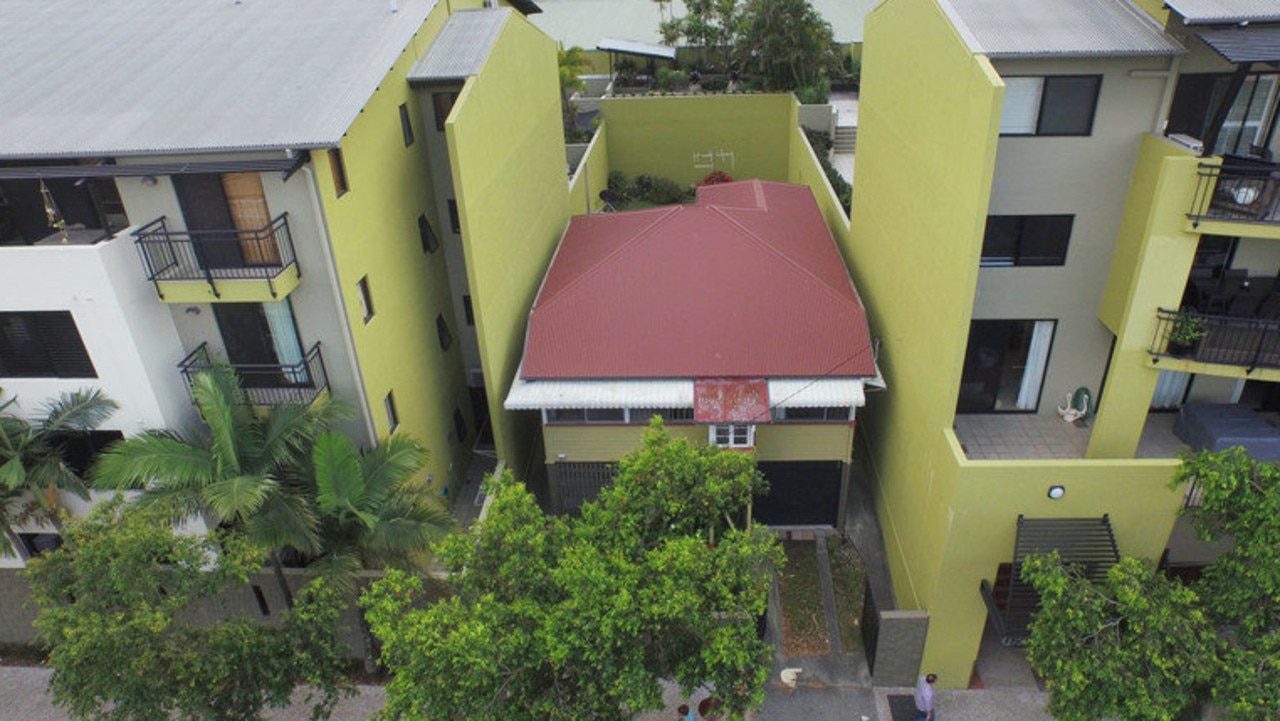 The home sits in the heart of Brisbane.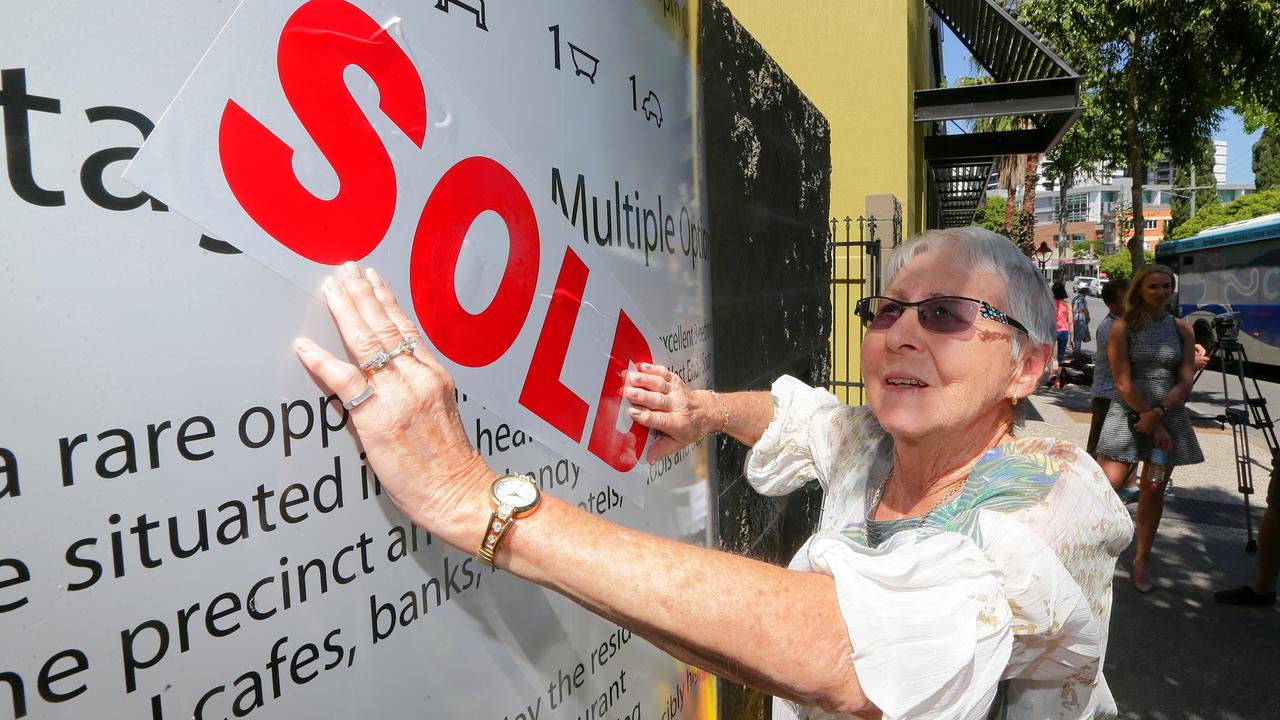 Janet Richards who sold the home. Picture: Peter Wallis
The three-bedroom home, which is sandwiched between a shopping complex, which houses a Coles supermarket and 25 speciality shops on one side and unit blocks on the other, sold under the hammer at the time for $1.4 million.
A real estate agent who sold the home at the time said he believed it wouldn't be bulldozed anytime in the near future.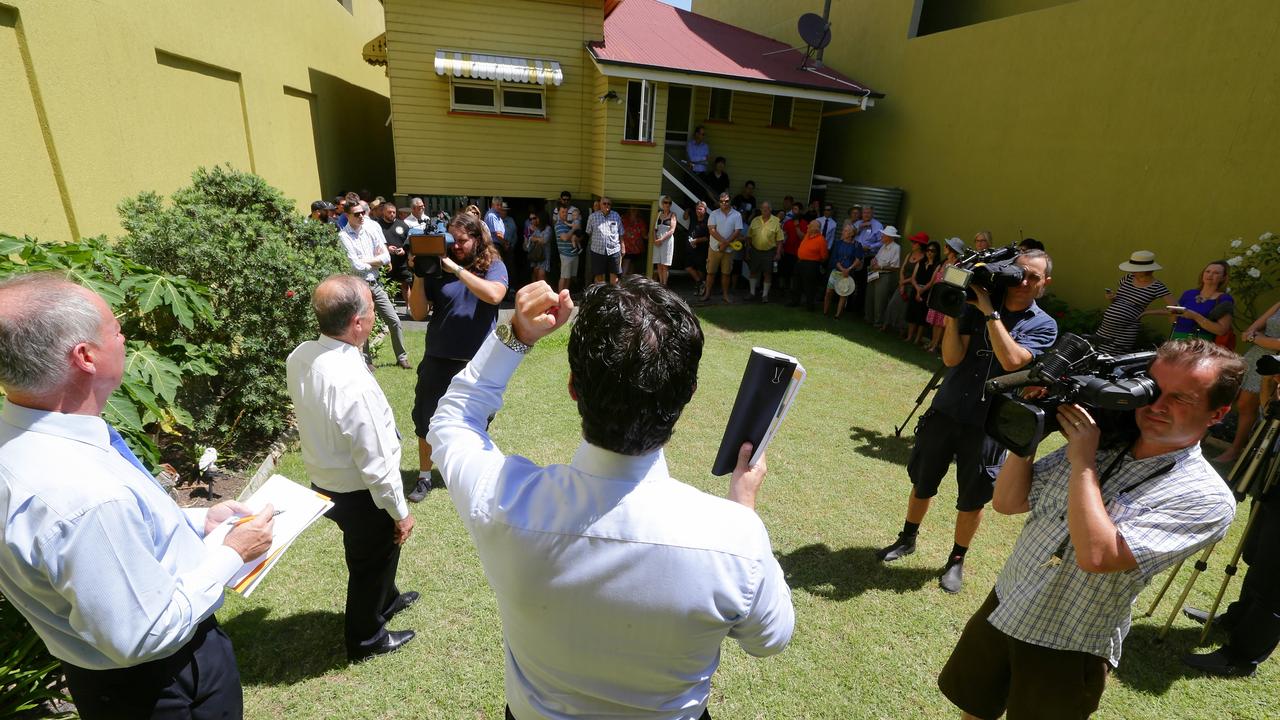 A big crowd turned out for the auction. Picture: Peter Wallis
"It was bought by an out of town investor and I think they're going to put some family in it," he said.
Lo and behold the two storey home is still standing defiantly in the centre of Brisbane — where it is now being rented out to The House Conspiracy as an artists' residence.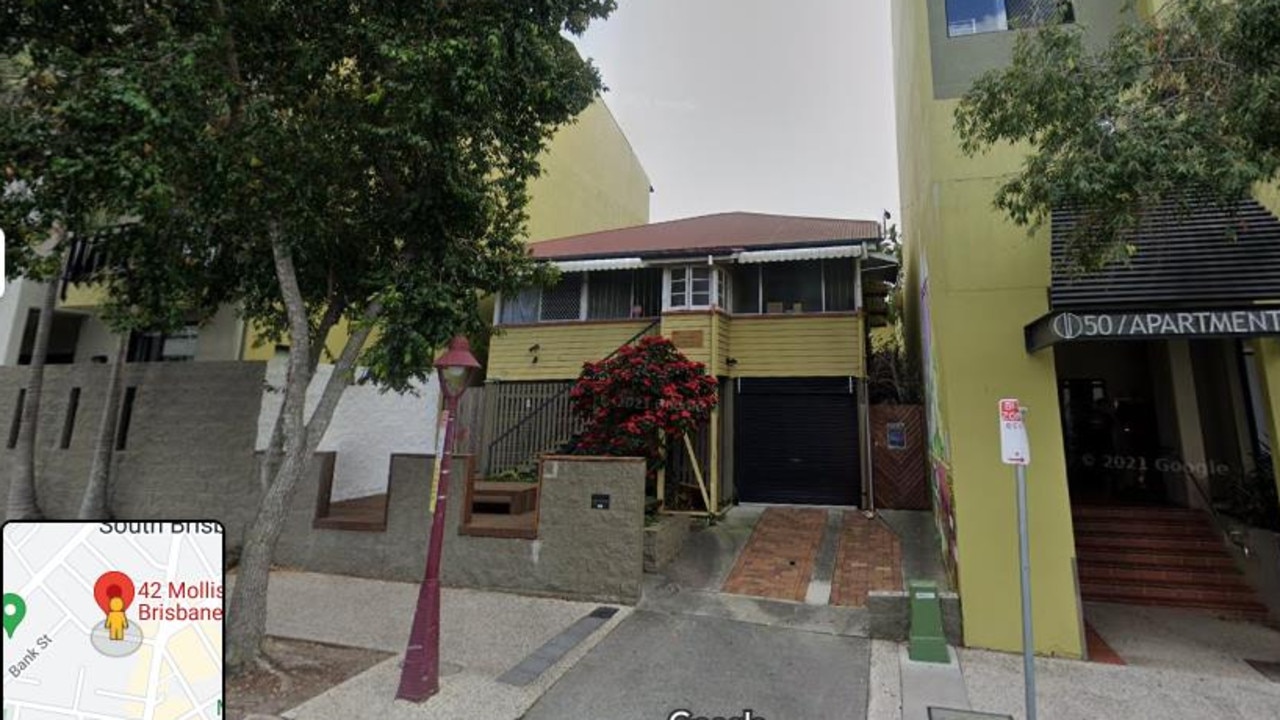 Google Maps images show the home is still standing there to this day.
328 Kingsway, South Melbourne
Perhaps one of the most striking holdout homes in Australia sits alongside the busy Kings Way in South Melbourne.
Sat right in the middle of a massive and modern apartment complex, the home has forced developers to get creative and shape the tower around it.
According to realestate.com.au, the home and another similar house on Kings Way have been earmarked as heritage listed homes.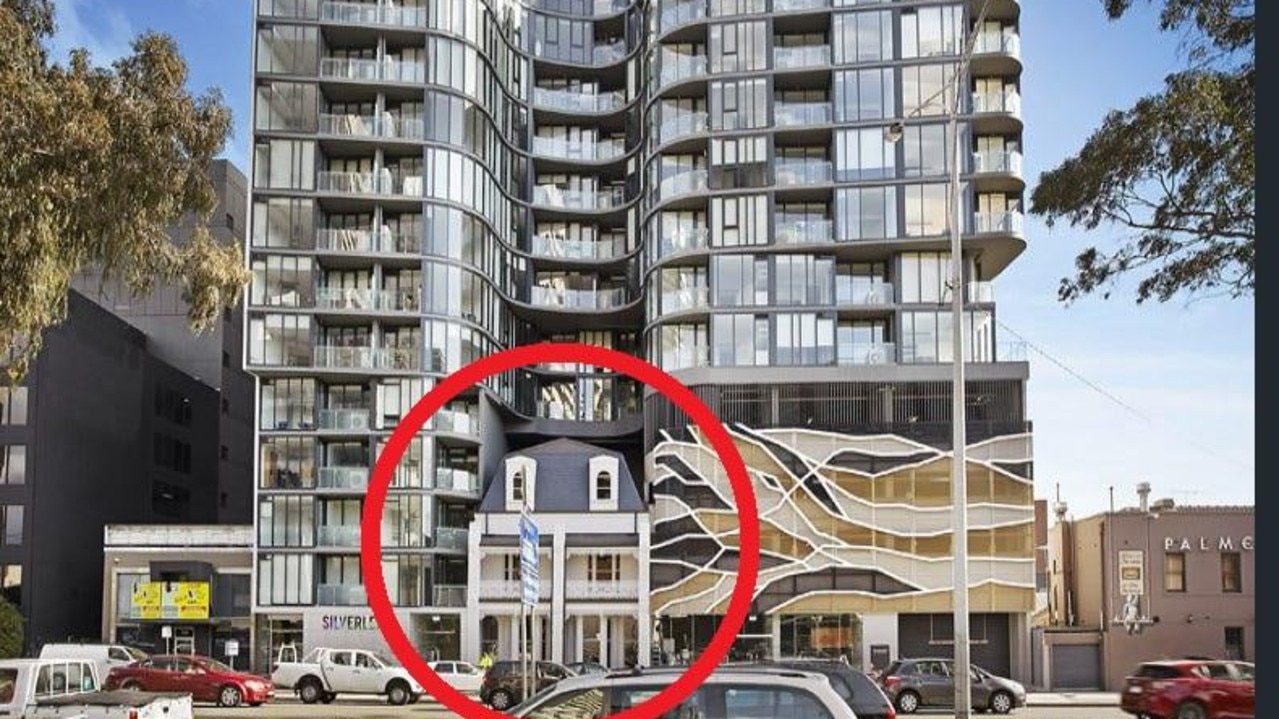 Developers have been forded to build around the home.
It means they are protected by councils to maintain the charm of historic Australian architecture, and that developers have to work around them by law.
Pint-sized property among St Leonard's towers
While some Aussie homes have been protected against development, one of Australia's most well-known holdout homes has been boarded up for years and could be knocked down before long.
Wedged between two multistorey unit blocks in St Leonards — on Sydney's north shore — the narrow abode was listed for auction in 2019 as part of a combined 'super lot' incorporating 19-33 Chandos St.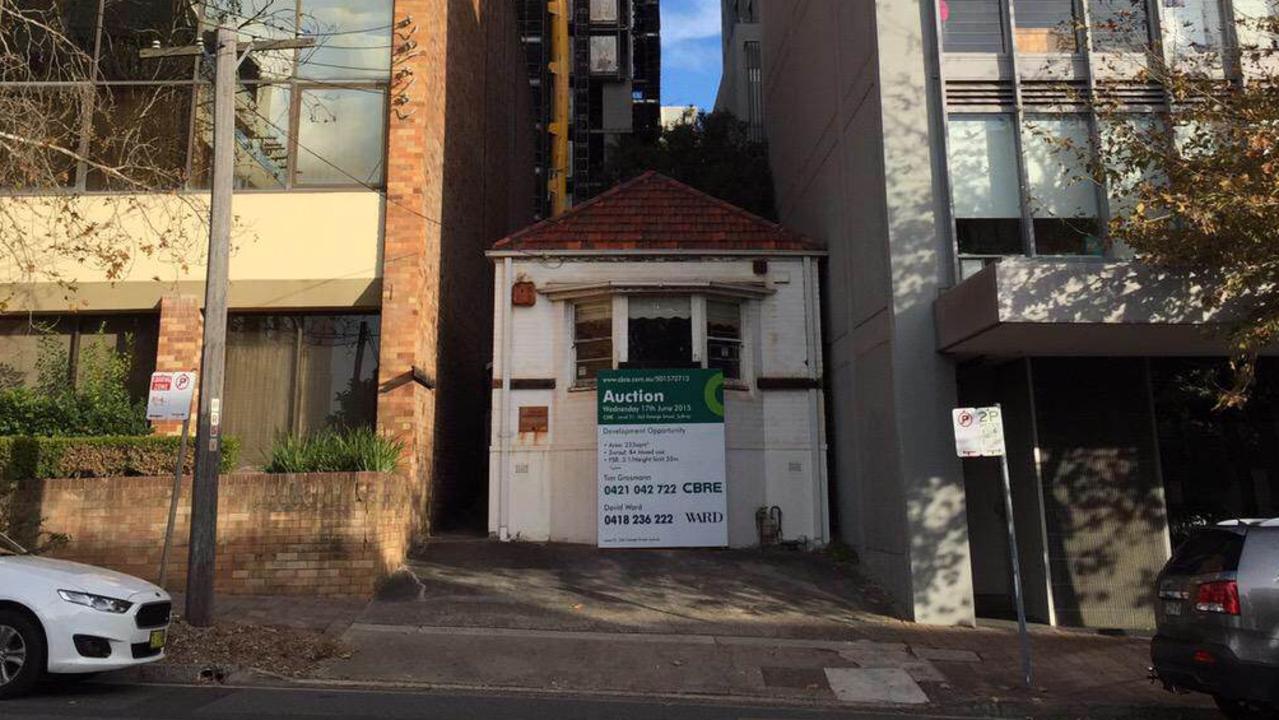 The home in St Leonards is for sale. Twitter picture: Chris Ho
According to the North Shore Times, the property's history dates back more than 75 years with records showing it was sold in the 1960s for £3000 to jeweller and businessman John Clarke.
The tiny building remained a family-owned jewellery shop, John Clarke & Son, until 2017 when it was reportedly sold for $3.5 million.
The single storey building has remained boarded up ever since.
The Zammit family – The Ponds, Sydney
An Aussie home that stands out in entirely different way belongs to the Zammit family in the far northwest of Sydney.
The two-hectare stretch of land at The Ponds sticks out like a sore thumb after rows of hundreds of houses sitting side-by-side sprang up around the block in recent years.
A local real estate agent has praised the family for staying put, despite the big cheques they have likely been offered.
"The fact that most people sold out years and years ago, these guys have held on. All credit to them," Ray White Quakers Hill agent Taylor Bredin told 7 News, adding that up to 50 houses could probably be built on the land.
"Depending on how far you push the development plan, you'd be able to push anywhere from 40 to 50 properties on something like this, and when subdivided, a 300 square metre block would get a million dollars."
Drone shots of the property really show how much it stands out among the lines of grey two storey homes. Picture: Seven News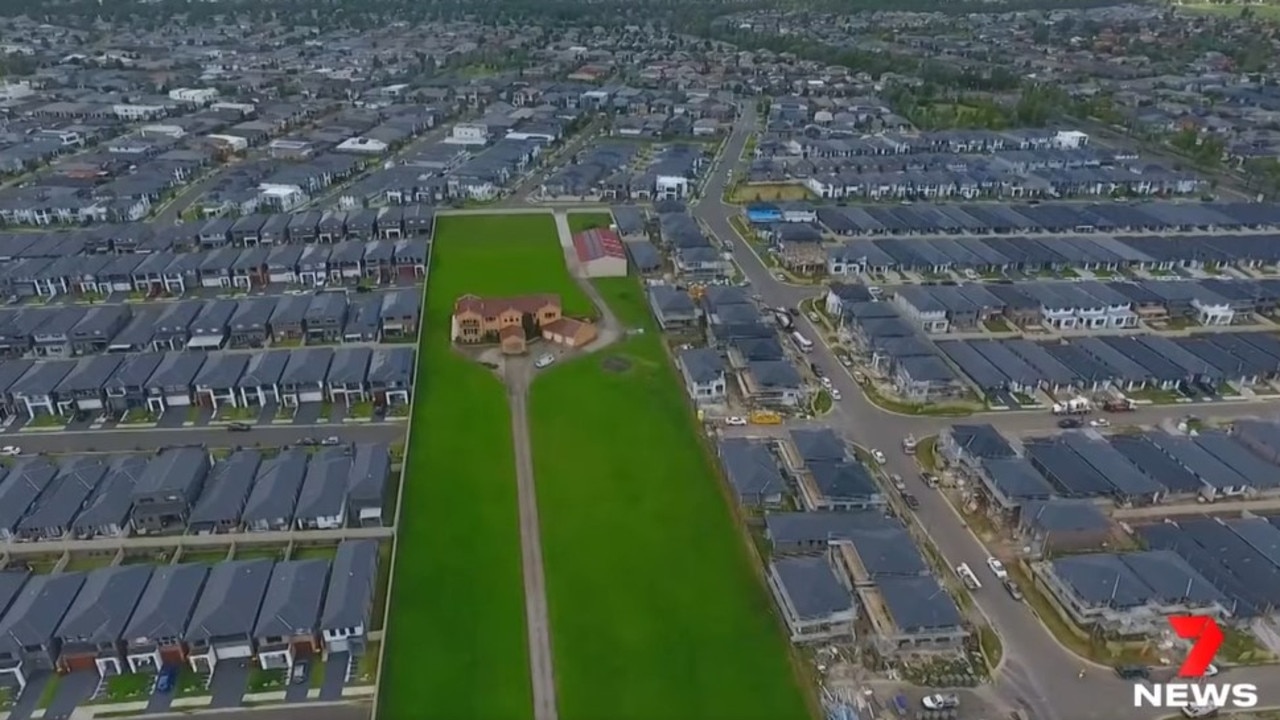 Neighbours reportedly don't want the owners to sell because they like living in a cul-de-sac. Picture: Seven News
READ MORE VIA NEWS.COM.AU
MOST POPULAR IN NEW ZEALAND